If you're planning a trip to Nepal, consider yourself incredibly fortunate. Nepal is an amazing country that features a rich cultural heritage and a lifetime of adventures that are just waiting to be had.
But, depending on where you're coming from, traveling to Nepal is usually a major undertaking. Nepal is a truly unique country and traveling through it requires adequate planning and a good sense of adventure.
In this article, we're going to introduce you to 5 things that nobody tells you about when it comes to traveling in Nepal. That way, you're ready to make the most of your trip of a lifetime.
There's More to Nepal than Mount Everest
When many people think of Nepal, they picture Mount Everest. But while the world's highest mountain certainly deserves some respect and admiration, there's so much more to this amazing country than any single peak—no matter how tall it might be.
In fact, Nepal is home to a staggeringly large number of Himalayan peaks, including 7 of the world's 8,000-meter (26,247 ft) mountains. Even if mountaineering isn't quite on your preferred list of activities for your trip to Nepal, the country's expansive mountains and foothills offer countless treks and adventures outside of the general Mount Everest region.
Additionally, Nepal boasts some exceptional cities that offer a chance to experience the culture and customs of this wonderful nation. Some of the best metropolitan areas to visit in the country including its capital, Kathmandu, and its self-proclaimed tourism capital, Pokhara.
Oh, and did we mention that Nepal is also home to a diversity of landscapes that includes everything from tropical jungles to the lowlands of the Terai? Simply put, there are countless places to visit and explore during your next trip to Nepal, each of which offers its own unique attractions for tourists to enjoy.
Flying Domestically in Nepal is an Interesting Experience
Most international travelers to Nepal will arrive at Tribhuvan International Airport in Kathmandu. The airport caters to many major international airlines, and the experience of flying to and from Kathmandu from your home country is much like what you're accustomed to in other parts of the world.
But if you're looking to fly domestically in Nepal, get ready for a totally unique experience.
Domestic air travel in Nepal has become particularly popular among tourists in recent years as it provides a much faster way to get from Kathmandu to other parts of the country. Given Nepal's rugged and mountainous terrain, flying is often much faster than driving to more remote parts of the country.
However, flying domestically in Nepal is an adventure in its own right. 
Kathmandu's airport has its own dedicated domestic terminal. There are only three major domestic airlines (Nepal Airlines, Yeti Airlines, and Buddha Air) that offer regular flights throughout the country, and getting domestic flight tickets can be challenging, so it's best to do so through a tour guide or local travel agency.
Additionally, most domestic flights in Nepal operate using very small aircraft and flights to some of the more remote airports, like Lukla, are routinely canceled due to weather issues. Flying with camping gear in Nepal can also be a challenge as most of the country's airlines have very strict baggage weight limits.
Our advice? Get help from a licensed tour guide or travel agency to ensure you understand the ins and outs of flying domestically in Nepal. It might cost a bit more upfront, but you'll appreciate the extra help during your trip!
Country-Wide General Strikes are a Part of Life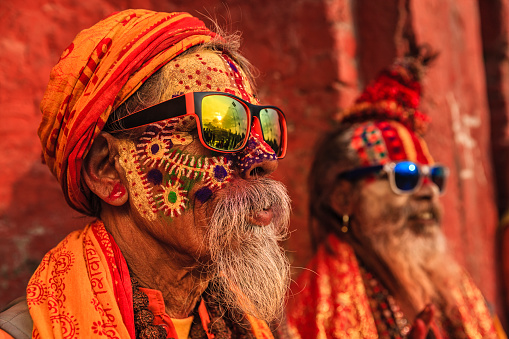 Nowadays, Nepal has a wonderful reputation as a peaceful country with a burgeoning tourism industry. However, few international tourists realize that Nepal was deep in the midst of a civil war until relatively recently (2006, to be exact).
Although the fighting itself has more or less ended in Nepal, like all countries, Nepal has its own set of political and social challenges. Fairly frequently, these political and social struggles result in country-wide general strikes that can paralyze the company for a few days or weeks at a time.
General strikes in Nepal can happen for a number of reasons, but the outcome is normally the same: the shuttering of schools, roads, and marketplaces for extended periods without much warning.
If you're in a more remote part of Nepal or you're trekking through the mountains, these strikes might not have a major impact on your trip. But if you're trying to travel domestically in the country or you're trying to see the sites in Kathmandu, a general strike can pose a serious challenge.
More often than not, general strikes resolve themselves fairly quickly. But if you're a first-time traveler in Nepal, the situation can get quite stressful. Having a tour guide or a travel agency that you trust can help you navigate these strikes with as little disruption to your travel plans as possible.
Food in Nepal is Delicious and Diverse
If you've never been to Nepal before, it's very likely that you've never experienced authentic Nepali cuisine. Not knowing what to expect when it comes to your food and beverage choices on a trip can be a bit daunting, but we're here to happily tell you that the food in Nepal is exceptional.
Nepali food is heavily influenced by the traditional cuisine from its neighboring regions in northern and eastern India, but with its own flair. A lot of the food in northern Nepal also has a strong Tibetan influence and there are plenty of dishes that are uniquely Nepali.
One dish you'll see on nearly every menu in Nepal is dal bhat, or lentils and rice. At most restaurants and tea houses that serve dal bhat (which is pretty much all of them), you'll normally also get an assortment of sides like spicy pickles, papads, potatoes, and other vegetables.
Keep in mind that each of Nepal's many ethnic groups has its own traditional way of making dal bhat and other popular dishes. So, even if you see the same dish on the menu at different restaurants or tea houses, don't expect the exact same flavors each time.
But we'd be remiss if we forgot to mention our personal favorite Nepali food: momos.
Momos are a type of Nepali and Tibetan dumpling that you just can't skip out on. You'll find momos with both meat and vegetable fillings, so there's something for everyone to enjoy.
Nepali People are Incredibly Kind
Last but not least, anyone traveling to Nepal should know that the country is very welcoming and its people are wonderful.
Tourism is a big part of the economy in Nepal and many of the people you'll encounter during your travels are excited to share their culture and their country with visitors.
Taking the time to talk to the people you meet in Nepal can provide you with invaluable insight into life in this spectacular country and can make your trip all the more meaningful. Happy travels!